As a teacher, you might be convinced that the rigid structure of traditional classrooms is both necessary and beneficial, and in some instances it is. However, we're here to challenge those norms and introduce you to the modern-day STEM classroom where you can teach multiple subjects with just a few small changes to your classroom furniture.
Science, Technology, Engineering, and Mathematics (STEM) education is designed to encompass several aspects of learning to prepare our younger generation for the future ahead. It's less about theoretical concepts and more about practical applications which help students develop skills they'll find useful in their future careers.
Making Use of One Flexibly Furnished Classroom
Your STEM classroom is more than just a science lab, technology centre, design studio, or maths classroom. It's all four in one!
The unique parameters of a science lab, the capabilities of a technology centre, the applications of a workshop, and the intricacies of a mathematics room can all be encompassed in one flexibly furnished classroom.
Having the ability to teach multiple disciplines in one student-friendly classroom is a great way to save money and provide consistency in a child's learning experience. The flexibility offered by this modern learning space allows teachers to make full use of their students' time while also maximising available resources efficiently.
Hands-on learning experiences are beneficial for students, as they provide opportunities to develop problem-solving and critical thinking skills. Additionally, students gain exposure to real-world applications in various disciplines, such as engineering and science.
Benefits of Having a STEM Classroom at School
Here's a rundown of the core benefits of having a STEM classroom – just in case you weren't sold on the idea already:
Encourages Experimentation and Builds Resilience:
Without experimentation and risk-taking, many of today's scientific advancements would not be possible. STEM encourages children to take calculated risks by allowing them the confidence to follow something through till the end – even when things don't go right the first time.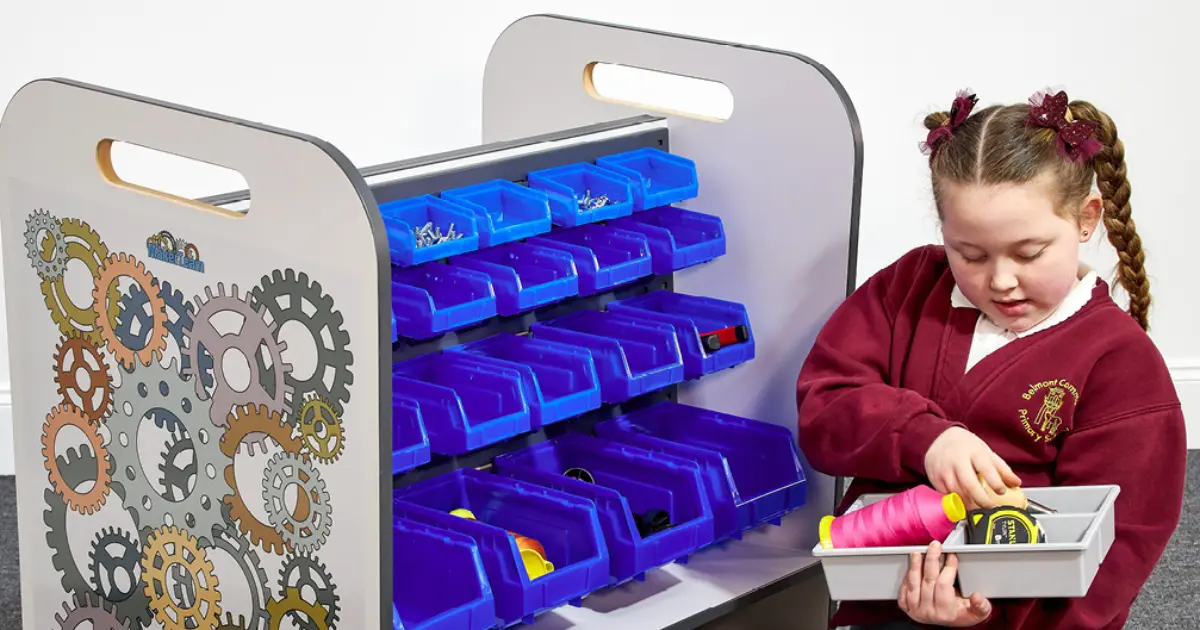 There is value in failure as it allows students to embrace their previous mistakes as part of a bigger learning process. James Dyson (y'know, the vacuum cleaner guy) failed over 5,100 times before successfully inventing the world-renowned Dyson Vacuum Cleaner. Dr. Suess had his first publication rejected almost 30 times before someone took a chance – and now everyone knows about green eggs and ham.
The point is: failure doesn't define us, it's the giving up part we should avoid – and STEM only encourages this.
STEM enables students to build their confidence in a subject by being allowed to fail in a safe environment, and then supported in getting it right the next time (or the time after that).
Encourages Problem-Solving through Teamwork:
As teachers, we know there will be at least one student who just won't get it. You've tried to explain a million times how X goes into Y, but nothing is helping. Group tasks are a great benefit of STEM education as children can work together to come up with their own solutions to a problem.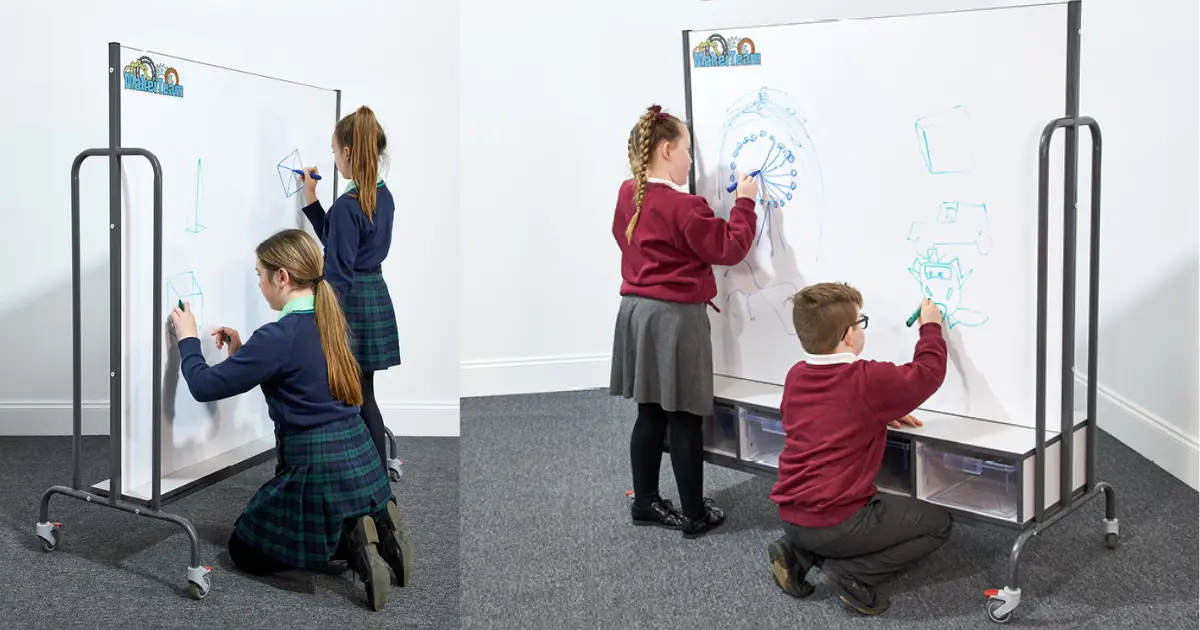 This model of learning allows them to bounce ideas off one another and instills confidence (if done the right way). The end result? A whole group of students who understand the importance of teamwork and collaboration with others to solve a problem – sounds like a workplace dream, right?
Encourages the Use of New Equipment and Technologies
One of the biggest fears when starting a new project is not having the right equipment to complete said project. A well-designed STEM classroom houses multiple tools and equipment to allow students to flourish in their set topic.
A workshop trolley, for example, can hold all the basic tools you'd need to practice textiles, product design, and engineering – all in one place! A lot of the skills learned within the STEM classroom can be transferred to new tasks too, which will do them wonders when faced with unfamiliar tasks in the future.
The world is constantly evolving, and technology faster than we can get used to it. STEM education encourages the use of new technology to complete their tasks, like utilising the internet in the correct way to research the topic they're learning about – finding quality sources rather than the first Wikipedia result (no shade).
Instead of hesitancy, children will learn to embrace these new technologies which will bode well for them in the future as we become a more technology centred society.
Key STEM Furniture for the Classroom
Along with the students and teachers, furniture completes a classroom. At Willowbrook, we have a small but unique range of STEM furniture available to help bring together some of the aspects of STEM learning.
MakerTeam Collaborative Mobile Whiteboard
The inspiration behind our MakerTeam Mobile Whiteboard unit was to explore and further students' interest in the various fields of STEM by developing a piece of furniture that encourages teamwork and experimentation.
With the collaborative mobile whiteboard, children can work together while being free from the fear of mistakes thanks to its wipe-clean surface. We've also included the option for this whiteboard to come with the superior quality Certwood Crystal Clear Trays to keep any whiteboard markers from going missing!
MakerTeam Station Trolley
One of our favourite STEM pieces, the MakerTeam Station Trolley is perfect in any engineering or design technology classroom. We've opened the door to a more practical and hands-on approach to learning with this multi-use unit.
Looks can be deceiving because this 'trolley' actually has a full-sized whiteboard on the back for technical drawings and sharing ideas. The front of the unit allows for storage of things like arts and crafts supplies, and even tools used in your typical workshop!
With the advantage of extra storage space, heavy-duty lockable castors, and metal-mounted bins, the MakerTeam Station Trolley is one of the most versatile STEM units we make.
MakerTeam Double-Sided Components Trolley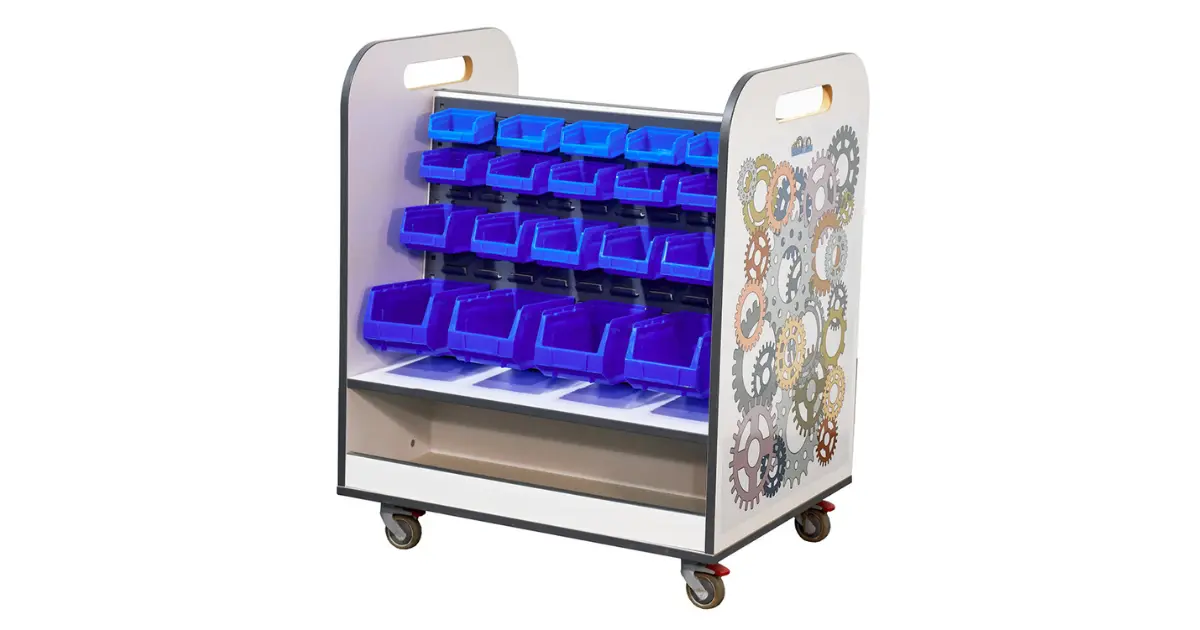 The MakerTeam Double-Sided Components Trolley is ideal as a design technology classroom centrepiece, giving students ample storage for smaller components often found in electronic products.
No need to hide your wires, transmitters, or thingamabobs and doohickeys – you can now have them stored in an organised manner, making it easier for students to have access to the various parts they'll need for the lessons.
MakerTeam 4 Shelf Trolley
The final installment (so far 😉) in our MakerTeam collection is a sturdy shelf trolley – perfect for storing your classroom textbooks, how-to guides, and other useful reading material.
With this entire range, our vision was to give learners and educators access to a different style of learning in the classroom. We also wanted to encourage the teaching of STEM education within schools, as it enforces vital life skills that children can utilise for the rest of their life.