When considering the best practices for designing a school library, there are many factors you should keep in mind. Things like budget, available space, technology, furniture, storage, colour schemes, room layouts and lighting play a huge role in the design process. 
A school library is more than just a room full of books. It's a vital learning hub where students develop critical thinking skills, creativity, and a love for reading. Therefore, designing a school library involves careful thought and planning.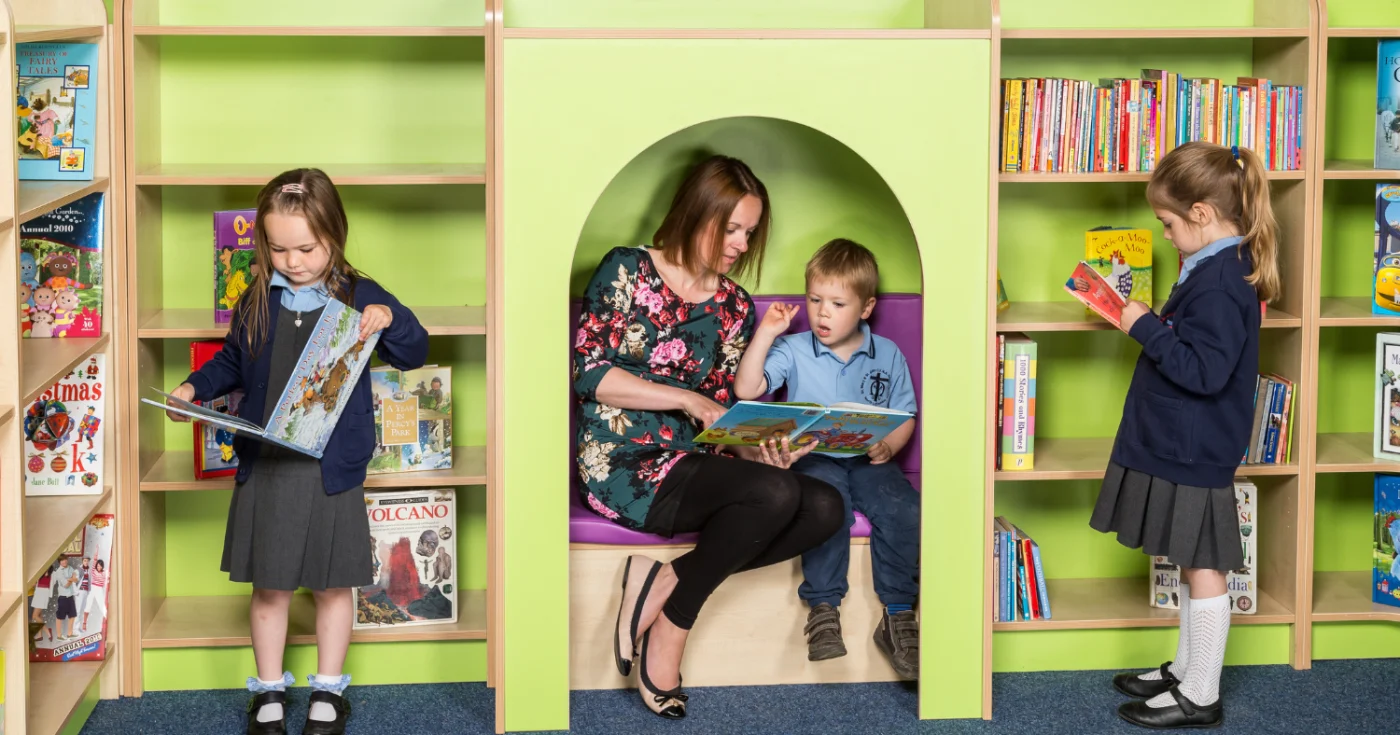 Today we're going over some of the best practices to ensure your school library is inspiring and engaging for students. These include:
Understanding the Needs of Users: School Children & Teachers
Creating a Welcoming Atmosphere in Your School Library
Ensuring Efficient Space Utilisation
Technological Integration in the Modern-Day Library
Inclusion of Different Types of Media, and
Encouraging Exploration Beyond the Classroom
Understanding the Needs of Users: School Children & Teachers
The first step in designing a successful school library is understanding the needs of its users. This includes the students, teachers, and other staff who use the library. Talk to them, conduct surveys, and collect data on their reading habits, interests, and use of the library.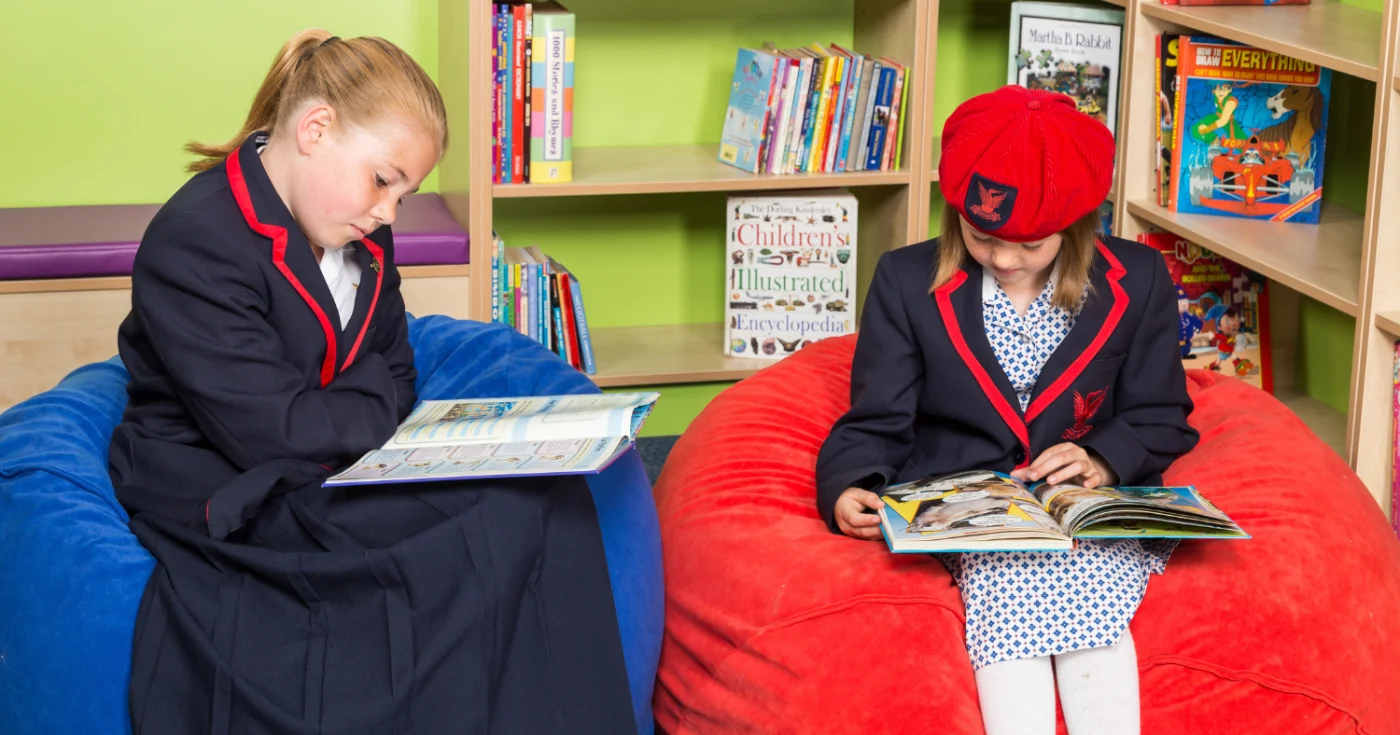 Maybe you want your library to feature an ICT section with computers for homework and independent research. Or perhaps you're looking for bright colours and reading nooks. Whatever you do, just make sure your new school library is built with the users in mind. 
The library shouldn't function in isolation. Collaborating with teachers can ensure the library's resources align with the curriculum and assist in teaching and learning. This could involve curating resources for specific projects or topics, providing research support, or offering information literacy workshops.
Creating a Welcoming Atmosphere in Your School Library
A school library should have a warm and welcoming atmosphere to encourage students to spend time there. Choose colours that are soothing and calming, and invest in comfortable seating and reading areas. Soft furniture like beanbag chairs and foam-shaped seats are encouraged in these areas to create breakout spaces and dedicated reading zones. 
Research on soft seating in schools shows that students respond better to a variety of teaching styles when they're comfortable. Things like improved concentration, increased independence, and flexibility can be achieved by selecting your library furniture carefully.
Lighting also plays a huge role in creating a good atmosphere, so you should ensure you're maximising the use of natural light if possible. Sufficient and appropriate lighting is one of the main elements of a successful library, so prioritising this is a must.
Ensuring Efficient Space Utilisation
Space is a major factor in the design of a school library. A well-planned layout ensures easy navigation, with clearly labelled sections and accessible bookshelves. Consider implementing a flexible space design that can be adjusted for multiple purposes, like reading, studying, collaborating on projects, or hosting events and guest speakers.
We've designed and built hundreds of libraries for schools all around the country. 'Multipurpose' is one of the most common keywords used by headteachers looking to update their libraries. By using a professional library design service, like the free one offered by us, you can maximise the potential of your existing space.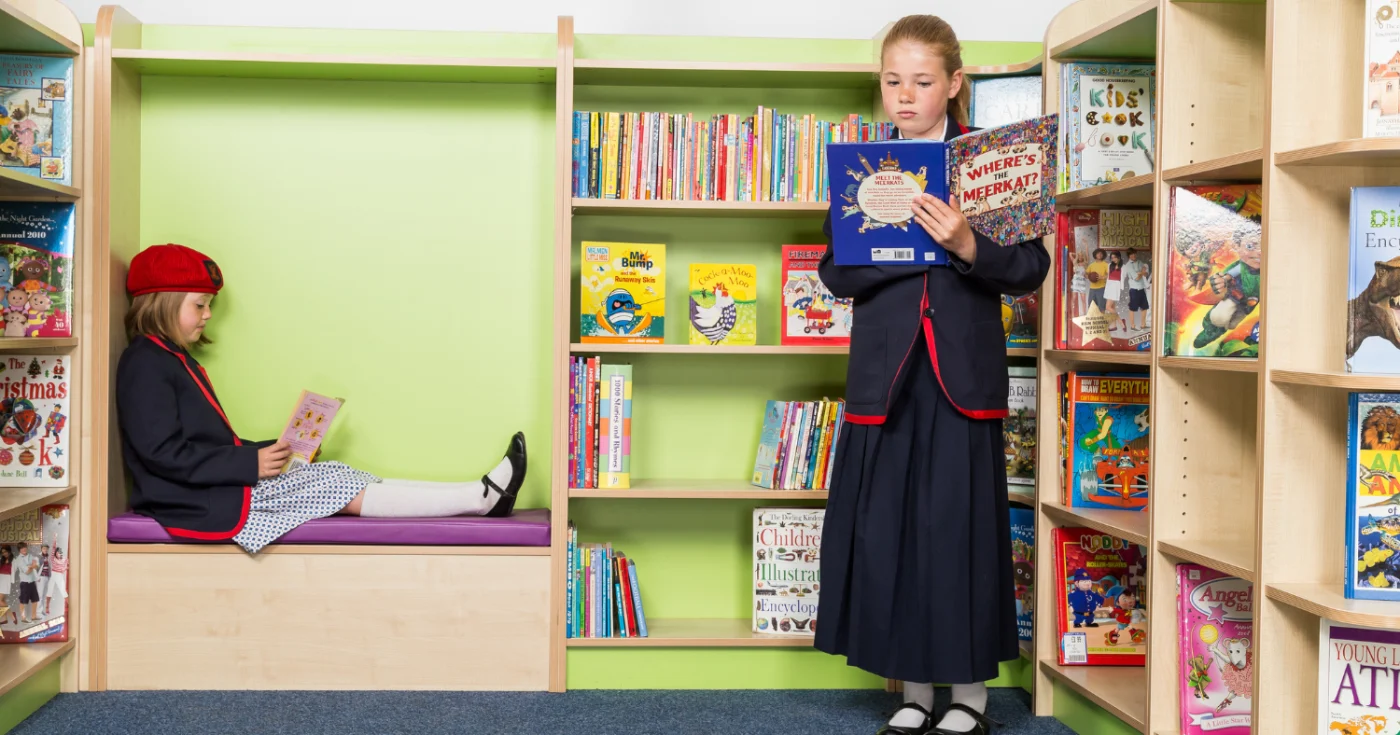 Another thing we're starting to commonly see in new libraries is teaching walls, which allow the library to become a makeshift classroom. This versatile feature can be designed to integrate a smartboard, shelving for books and resources, storage, and display areas. It becomes a focal point of the library where lessons, presentations, or workshops can take place. A teaching wall also optimises space usage, especially in smaller libraries, by consolidating essential functions in one area, making it a valuable component in contemporary school library design.
Technological Integration in the Modern-Day Library
In the digital age, a modern school library should integrate technology seamlessly. This includes providing access to:
Digital resources,
Outlets for personal computers and devices,
Computers, and
E-books.
Additionally, having a dedicated area for digital learning and media production can support students' creative and technological learning. In a tech-enabled teaching wall, for example, multimedia resources can be utilised, aiding visual and interactive learning. This feature facilitates more organised, flexible, and engaging lessons, accommodating different teaching methods and learning styles.
Some schools have even started using a digital checkout system, where students can loan books and other materials using a scanner – meaning the librarian can focus on the other facets of running a school library.
Inclusion of Different Types of Media
The inclusion of various types of media in a school library significantly enhances its appeal and usability. While books are a fundamental resource, libraries today need to cater to a variety of learning styles and preferences. This can be achieved by offering:
Age-appropriate newspapers,
Magazines,
Audiobooks,
DVDs,
Digital resources like e-books, and
Educational software.
By doing so, a school library can become a dynamic, multimedia hub, accommodating different tastes and interests. This broad approach to media not only serves the educational needs of all students, but also encourages independent learning, curiosity, and exploration.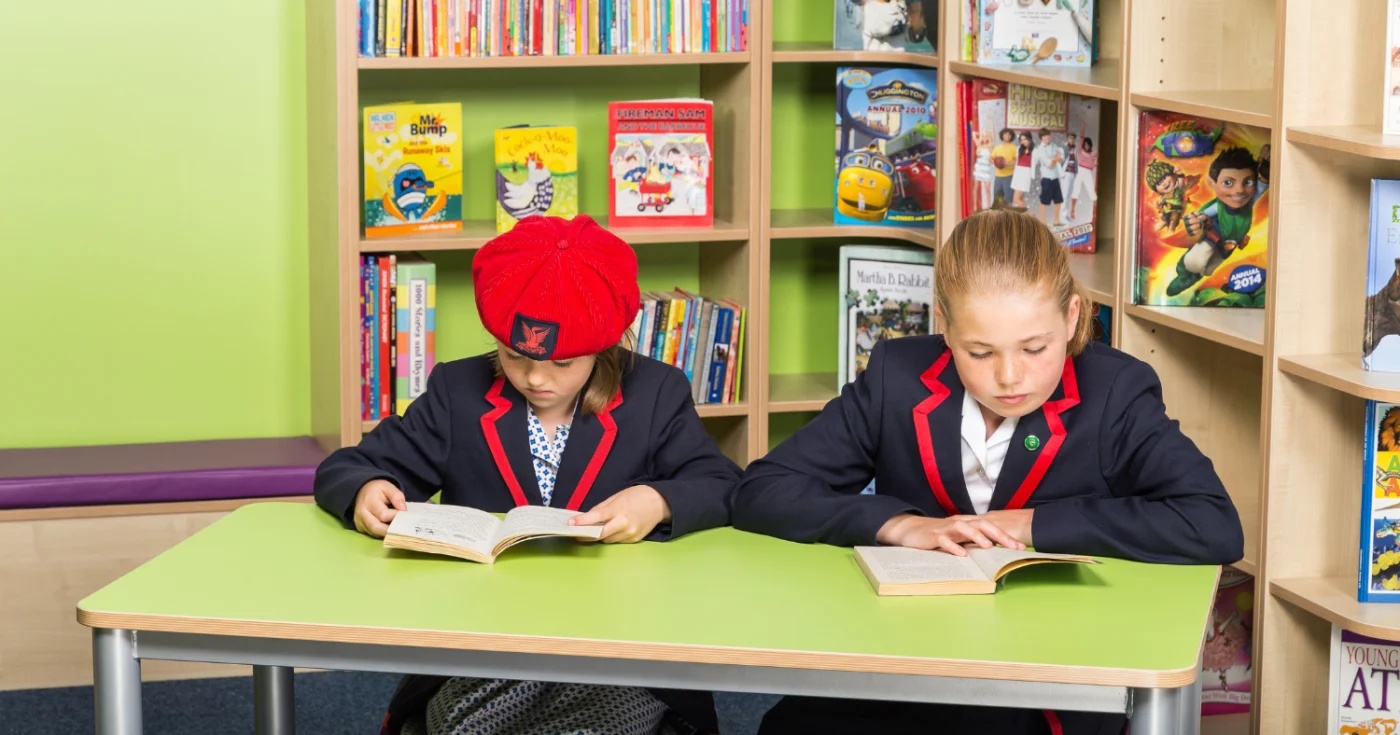 Older students often have different expectations, likely due to the always-accessible internet, which places more demand on creating a functional school library. Libraries are finding innovative ways to cater to students who desire instant and continuous access to resources.
And including various types of media is one of those ways!
Encouraging Exploration Beyond the Classroom
A school library can play a pivotal role in encouraging exploration and learning beyond the classroom. It offers a vast range of resources, from books to digital media, that allows students to delve into topics that interest them, whether related to their coursework or personal interests.
By providing diverse materials and organising activities like author talks, book clubs, and workshops, a library can spark curiosity and inspire students to explore new ideas and perspectives. The independent research skills developed in the library setting are invaluable, fostering critical thinking, creativity, and a lifelong love for learning. The school library, therefore, can be a rich supplement to classroom teaching, opening up a world of knowledge for students to explore at their own pace.
The most important thing to take from this post is that a successful school library is never a 'finished' project. Regular reviews and feedback from users should inform adjustments and improvements. Whether it's updating the book collection, redesigning the layout, or upgrading the technology, a school library should constantly evolve to meet the changing needs of its users.
Designing a school library is a significant task, but by following these best practices, you can create a space that is not only functional and efficient but also inspiring and engaging for everyone that uses it.