Have you noticed a sudden change in yourself or your fellow teachers recently? Are you prioritising teacher wellbeing at school?
Last time on the blog, we discussed a few ways you can help yourself as a teacher, including some great tips on redeveloping boundaries in the classroom. This week, we're continuing the theme of teacher wellbeing with a roundup on what it is and how to improve it.
So without further ado, here's our practical guide to teacher wellbeing. 
What is Teacher Wellbeing?
An educational establishment is nothing without its teachers. Fact.
It's about time we started thoughtfully prioritising the mental health and wellbeing of our school staff because their happiness plays a crucial role in young people's attitudes toward learning.
To fully understand the concept, we need to define what teacher wellbeing entails.
According to the Oxford Dictionary, wellbeing is defined as "a state of being happy, healthy and prosperous". While this is entirely correct, we must consider the full scope of mental and physical health and how that plays a part in our wellbeing.
The Teacher Wellbeing Index, created by Education Support, was developed to record and track teacher wellbeing in the UK.
Their most recent annual survey (2021) revealed that 54% of teachers have considered changing careers in the last two years. A further 77% had experienced poor mental health due to their work environment.
And while there's certainly no one-size-fits-all solution to staff wellbeing, we've come up with a few things you should consider when self-reflecting:
Connect with others.
Learn something new.
Rest your mind and body.
Be mindful and present.
Reward yourself.
Wellbeing Ideas for Schools
Beginning at the root. The workplace.
Now that we've outlined what teacher wellbeing is, here's how you can perfect it at your school. 
Make Counselling Accessible
Suppose you've not got a facility in your school where teachers can seek out support for their mental wellbeing. In that case, you should consider the options available.
You might be surprised to discover that many resources (paid and free) are available online, over the phone, and in person.
Did you know that Education Support has a free hotline available to all education staff? You can call them on 08000 562561, with 080000 numbers free from all UK landlines and mobile phones. They also have an email and live chat service available 24/7 too!
The government's Counselling in Schools: guidance document states that "promoting staff health and wellbeing should also be an integral part of the whole school approach to mental health and wellbeing." This further supports the need to make counselling accessible for teaching staff.
Communicate With Your Teachers
We're not talking about monthly reviews or feedback on their teaching – you should make time to have a chat with your teachers. Whether you ask them how they are or offer support when necessary, knowing they can have an open and honest discussion about their wellbeing is essential.
As a school leader, are you doing enough to support your staff? Do you know about their interests, career prospects, and what stresses them out? You can truly step into their shoes and help alleviate potential future issues by getting to know your teachers.
When we get new children at school, we take the time to learn about them and their needs to ensure they receive a quality experience at school. Why don't we automatically do this with our staff too?
Starting a conversation about staff mental health might help break down any barriers they have to thrive as a teacher. A teacher's physical and emotional wellbeing is the staple of a student's experience at school – so start the conversation.
Nominate a Wellbeing Support Officer
Manging the entirety of your staff's wellbeing on your own would be risky, as you may find yourself neglecting your own. Perhaps it's time to consider nominating a 'Wellbeing Support Officer'.
A wellbeing support officer is an individual who checks in on the teachers at your school, making sure they're satisfied. Creating that line of communication from teacher to senior staff is one of the most critical aspects of this role.
Wellbeing support officers can also promote wellbeing at school in numerous ways:
Supportive resources in the staffroom (posters and leaflets).
Regular meetings about wellbeing.
A newsletter with some tips on managing stress at school.
Report to senior leaders with wellbeing concerns.
It's all about making staff feel like they have a solid work-life balance and supporting them through their journey as a teacher.
Teacher Wellbeing Ideas at Home
 We think you should take some time for yourself. Starting at home, you can practice self-care to improve your overall wellbeing. 
Self-Care: What is it?
Self-care. It's a hot topic.
But what does it actually mean? Self-care is anything you do to look after yourself, whether that be going for a walk, watching your favourite TV show or taking time for yourself. It doesn't have to be complicated or expensive, and it's imperative when you're feeling burnt out.
How to Make Time for Self-Care
So… How can we fit self-care into our busy schedules? First, you should make sure that there is some time in your week when you can do whatever you want with minimal distractions from anyone else! It could be your lunch break at school or during the weekends (if you're free).
The most important part of this step is to decide what you need and when you need it; otherwise, you may feel rushed about fitting in your' me' time.
Now you should identify what your 'me' time looks like. Maybe it's doing yoga every morning before work or having a cup of tea while listening to nothing but the morning chirps. Or perhaps it's reading a book; learning about new things.
Whatever it is, do it.
Supporting Staff Wellbeing: Comments from Teachers
Who better than to talk about wellbeing than teachers themselves?
Teacher Tip #1:
"A huge part of teaching is about being reflective and taking the time to assess things and see what's going on. It can be easy to forget about a teacher's mental health, so we love when you ask how we're doing."
– Ms G, Scotland
Teacher Tip #2:
"Try and take some time for yourself on the weekend, even if it's just a short walk or some light retail therapy. There's nothing worse than getting to a Monday only to realise it's already Monday."
– Mr C, Northwest
A Word from Willowbrook
Like all tips and guidance, some things may or may not work for you, and that's okay! Our advice is meant to be taken as a first step based on experience and research. You should always seek help if you think your physical or mental health is taking a toll.
Please visit the Mental Health and Wellbeing Guidance from GOV UK for more mental health resources.
You can also check out our Jolly Back ideas to help improve back health and wellbeing in the classroom.
Looking for more ideas? Here are 7 Ways to Show Teachers Appreciation!
Teacher Wellbeing Infographic!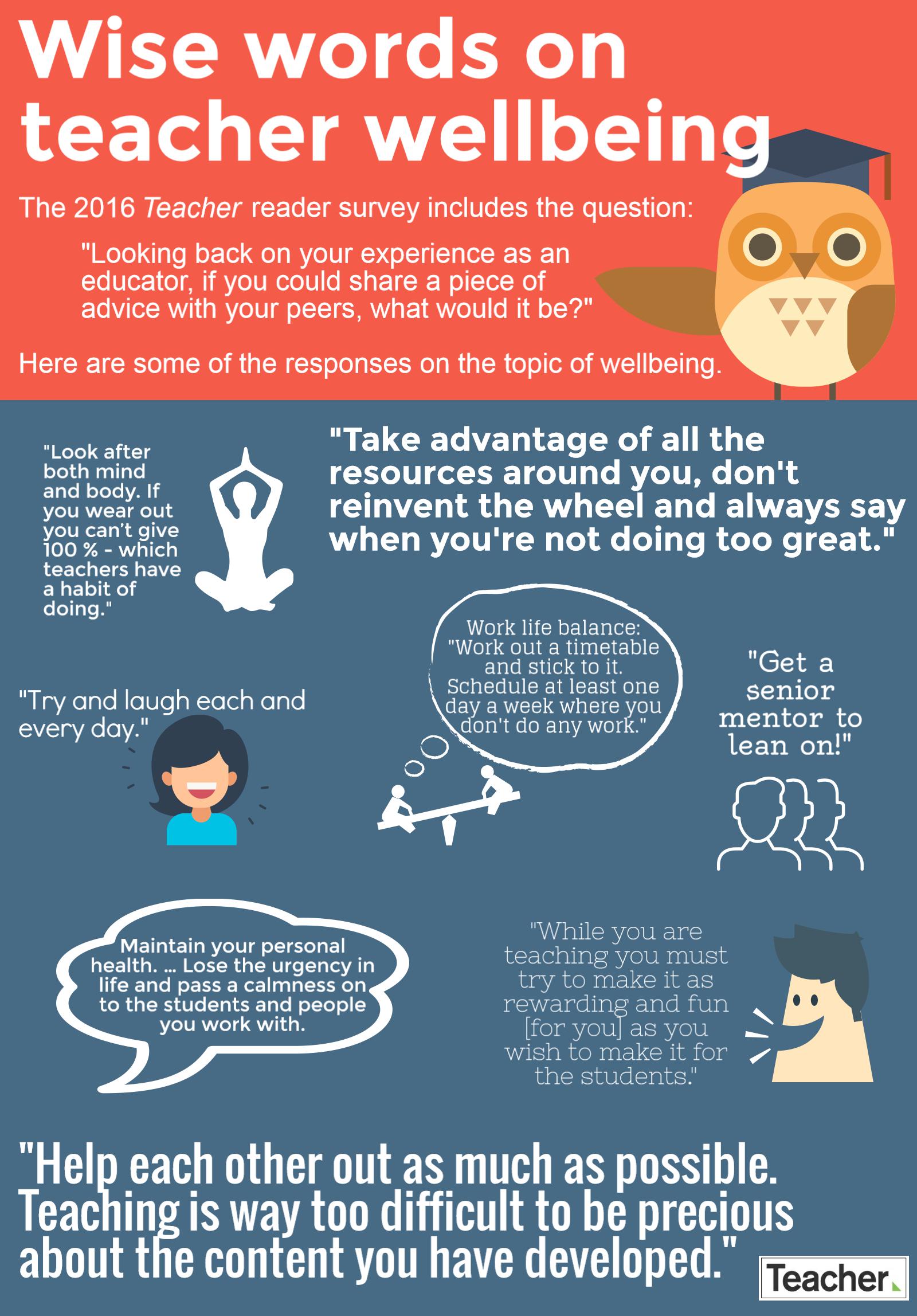 Kyle runs the marketing department at Willowbrook Education and regularly takes on freelance work as an SEO copywriter.